Ideas

Hi,
Maybe a bug or removed from program, but earlier it was worked.
It was a good trick, if we did'nt want to change the workplane to evaluation a point to point distance related to third element. Since 2019R2 is not worked.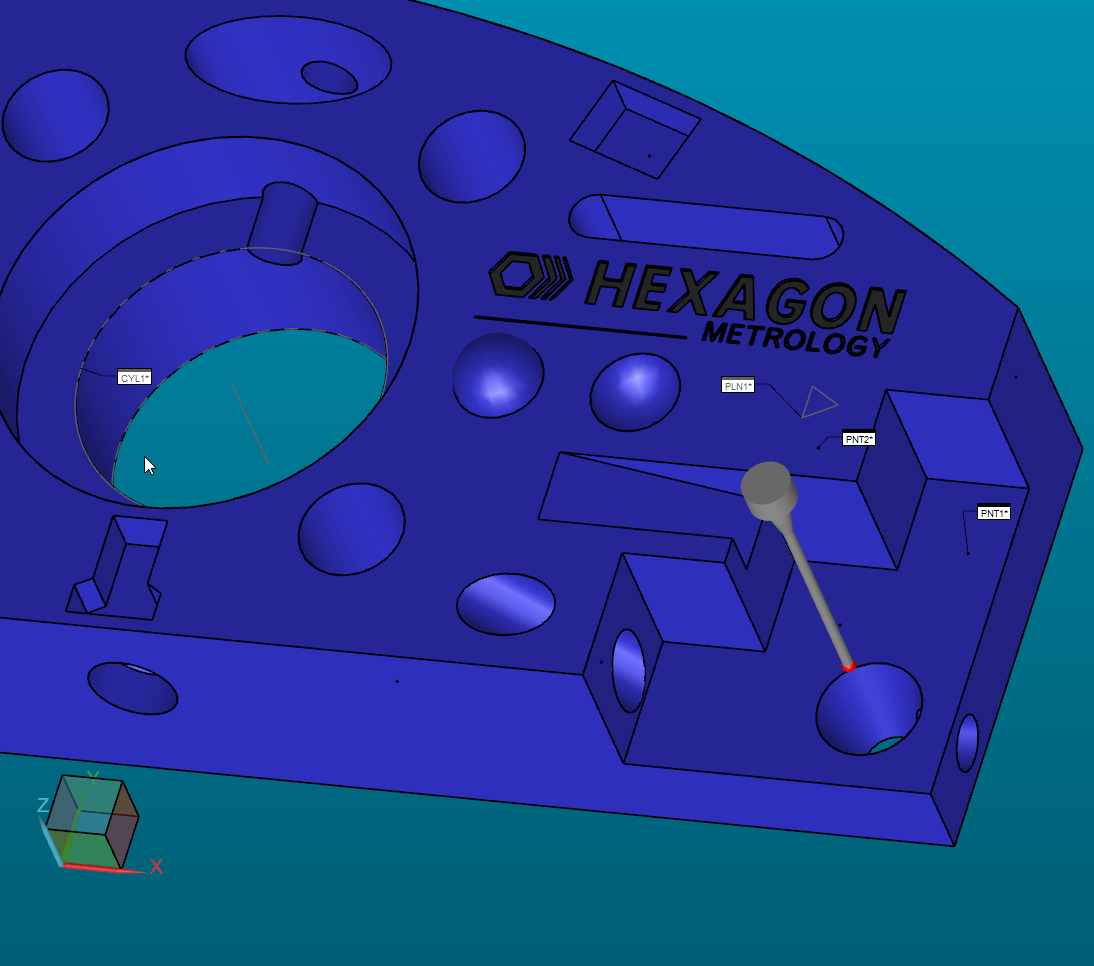 Now If the third element Cylinder,Cone or 3D line(axis) it is not working: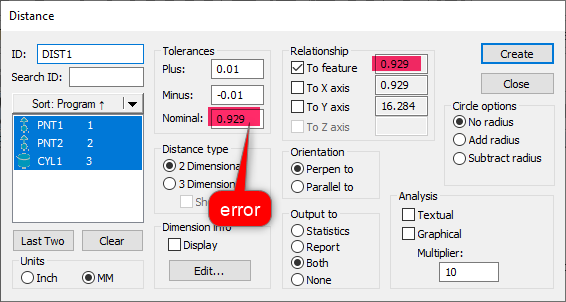 If the third element plane working: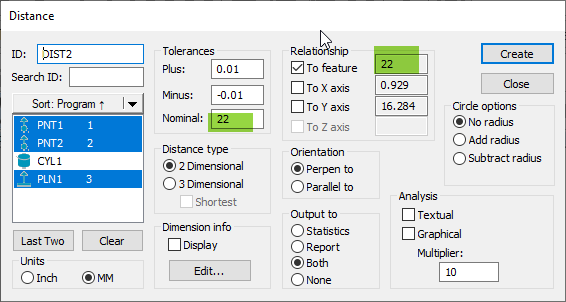 Could we kindly ask to repair this evaluation (ASAP because some of program use this method)
Thanks in advance!
The sample:

PNT1 =FEAT/CONTACT/VECTOR POINT/DEFAULT,CARTESIAN
THEO/<233.319,38.742,-22>,<0,0,1>
ACTL/<233.319,38.742,-22>,<0,0,1>
TARG/<233.319,38.742,-22>,<0,0,1>
SHOW FEATURE PARAMETERS=YES
SURFACE=THICKNESS_NONE,0
MEASURE MODE=NOMINALS
RMEAS=NONE,NONE,NONE
AUTO WRIST=NO
GRAPHICAL ANALYSIS=NO
FEATURE LOCATOR=NO,NO,""
SHOW CONTACT PARAMETERS=YES
AVOIDANCE MOVE=NO,DISTANCE=10
SHOW HITS=NO
PNT2 =FEAT/CONTACT/VECTOR POINT/DEFAULT,CARTESIAN
THEO/<217.035,39.671,0>,<0,0,1>
ACTL/<217.035,39.671,0>,<0,0,1>
TARG/<217.035,39.671,0>,<0,0,1>
SHOW FEATURE PARAMETERS=YES
SURFACE=THICKNESS_NONE,0
MEASURE MODE=NOMINALS
RMEAS=NONE,NONE,NONE
AUTO WRIST=NO
GRAPHICAL ANALYSIS=NO
FEATURE LOCATOR=NO,NO,""
SHOW CONTACT PARAMETERS=YES
AVOIDANCE MOVE=NO,DISTANCE=10
SHOW HITS=NO
CYL1 =FEAT/CONTACT/CYLINDER/DEFAULT,CARTESIAN,IN,LEAST_SQR
THEO/<124,50,-15>,<0,0,1>,44,20
ACTL/<124,50,-15>,<0,0,1>,44,20
TARG/<124,50,-15>,<0,0,1>
START ANG=0,END ANG=360
ANGLE VEC=<1,0,0>
DIRECTION=CCW
SHOW FEATURE PARAMETERS=YES
VOID DETECTION=NO
REMEASURE=NO,USE THEO=NO
SURFACE=THICKNESS_NONE,0
MEASURE MODE=NOMINALS
RMEAS=NONE,NONE,NONE
AUTO WRIST=NO
GRAPHICAL ANALYSIS=NO
FEATURE LOCATOR=NO,NO,""
SHOW CONTACT PARAMETERS=YES
NUMHITS=3,NUMLEVELS=3,DEPTH=0,END OFFSET=0,PITCH=0
SAMPLE METHOD=SAMPLE_HITS
SAMPLE HITS=0,SPACER=0
AVOIDANCE MOVE=BOTH,DISTANCE=10
FIND HOLE=DISABLED,ONERROR=NO,READ POS=NO
SHOW HITS=NO
COMMENT/REPT,
NOT OK- NOT working :-( Old version it was worked.
We use this lot of time because not neccesery to change the workplane
DIM DIST1= 2D DISTANCE FROM POINT PNT1 TO POINT PNT2 PERP TO CYLINDER CYL1,NO_RADIUS UNITS=MM,$
GRAPH=OFF TEXT=OFF MULT=10.00 OUTPUT=BOTH
AX NOMINAL +TOL -TOL MEAS DEV OUTTOL
M 0.929 0.010 -0.010 0.929 0.000 0.000 ----#----
PLN1 =FEAT/CONTACT/PLANE/DEFAULT,CARTESIAN,OUTLINE,LEAST_SQR
THEO/<214.878,46.819,0>,<0,0,1>
ACTL/<214.878,46.819,0>,<0,0,1>
TARG/<214.878,46.819,0>,<0,0,1>
ANGLE VEC=<1,0,0>,RADIAL
SHOW FEATURE PARAMETERS=YES
VOID DETECTION=NO
SURFACE=THICKNESS_NONE,0
MEASURE MODE=NOMINALS
RMEAS=NONE,NONE,NONE
AUTO WRIST=NO
GRAPHICAL ANALYSIS=NO
FEATURE LOCATOR=NO,NO,""
SHOW CONTACT PARAMETERS=YES
NUMHITS=3,NUMROWS=3
SPACER=0
AVOIDANCE MOVE=BOTH,DISTANCE=10
SHOW HITS=NO
COMMENT/REPT,
OK
DIM DIST2= 2D DISTANCE FROM POINT PNT1 TO POINT PNT2 PERP TO PLANE PLN1,NO_RADIUS UNITS=MM,$
GRAPH=OFF TEXT=OFF MULT=10.00 OUTPUT=BOTH
AX NOMINAL +TOL -TOL MEAS DEV OUTTOL
M 22.000 0.010 -0.010 22.000 0.000 0.000 ----#----